Sharepoint York
Do you need help or support for SharePoint York? Then you've come to the right place. Here, at Mansys, we've been providing SharePoint support for a number of years. Why is this important to your business? Our years of experience and knowledge give us an edge to provide the support your business needs.
What is SharePoint?
In plain English, SharePoint is a cloud-based content management, management and collaboration platform that make it easier for your team to work in the office or remotely. This is a popular management platform that helps your team collaborate, no matter where they may be located on the globe.
With SharePoint, our business can manage all documents including marketing materials, financials, and more. You can also create sites and a company intranet that helps keep everyone on the same page. They'll know what's due, receive important updates, and stay in touch with all that's going on in the company.
Other great features of SharePoint include real-time edits and co-authoring, powerful tagging of documents (makes them much easier to find), and documents and other files are available 24/7, anywhere you have an Internet connection. And you can access SharePoint from a wide range of devices.
SharePoint also makes it easy to automate workflows, so you don't have to worry about all those boring tasks or steps. You can even create tailored apps that increase the team's productivity.
Why Do You Need SharePoint?
There are many reasons SharePoint is one of the best solutions for your business. These include:
Making it easier for employees to work remotely

Giving employees access to important documents and files from almost any device

Share information with clients and partners

Share documents with customers

Keep all business documents, data, and more in one, secure place
Who We Are
Mansys is an MSP that provides managed IT support and consulting services to clients in Manchester. We've been around for years; in fact, we were established back in 2001. At that time, our team was made up of former Microsoft engineers who had worked in an in-house IT department. But we believed things could be different.
We were convinced that SMEs and charities could have the opportunity to receive the same care and attention they would receive from an in-house department. This was a new concept to IT support at the time.
Our core believe remains the same today, and our aim is to deliver a comprehensive IT support service to each of our clients, no matter their size or industry.
What is an MSP?
MSP stands for Managed Service Provider. An MSP is a business that remotely manages and monitors clients' IT infrastructure and end user systems.
An MSP approach is a bit different from traditional IT support services. With an MSP, support tends to be more proactive, rather than only reactive when something breaks down.

What You Can Expect from Us
We understand IT issues can be challenging. This is why we take a proactive approve to your needs every time. Our goal is to provide responsive, friendly, honest support to each of our clients—every time.
In addition, with our knowledge and experience, we're able to deal with the unique challenges faced in the Manchester business community. We work with organisations of all types and sizes including:
Business Centres

Professional Services

Charities

Recruitment Companies
Our support is customised for each of our clients, and we make sure our services meet your company's unique needs. What's more, we aim to improve our clients' overall business processes every time.
Other Services We Provide
We also provide a wide range of services to meet your business needs including:
IT Support: we provide managed services which include:
Helpdesk

Remote fixes

Proactive monitoring

Weekly backup checks

Software patch updates

Fault recording and analysis

SLA to respond to calls within 15 minutes

SLA to have engineers onsite within 1.5 hours

Quarterly review meeting

Biannual backup/recovery tests

24/7 disaster recovery support

Network security support

And more
Project Management: whether you have a large or small project, our project managers have the experience and knowledge to help you identify deliverables, and then ensure they are on-time and on-budget.
Consultancy: our highly qualified consultants work with your company on the following:
Microsoft SharePoint

Microsoft Dynamics

Infrastructure

Security

Cloud technologies

Disaster recovery
Security/Compliance: we ensure you get the right protection because no company can just rely on antivirus to protect valuable business assets and data. We offer a number of security solutions to help meet your specific security needs.
Cloud Solutions: we offer a number of cloud solutions including:
Office 365

Infrastructure As a Service

Online Backups

Web Filtering

Web Hosting

Domain Registration

Microsoft Dynamics

Microsoft SharePoint
Telecom Solutions: we provide a range of telecom solutions including:
Telephony: we provide hosted VOIP (Voice Over IP) solutions that allow you to make phone calls using the Internet rather than traditional ISDN or analogue lines.
Training: we can create customised training course that suit your unique business needs. Training can be conducted either at your site or in our training rooms. We also provide one-on-one training.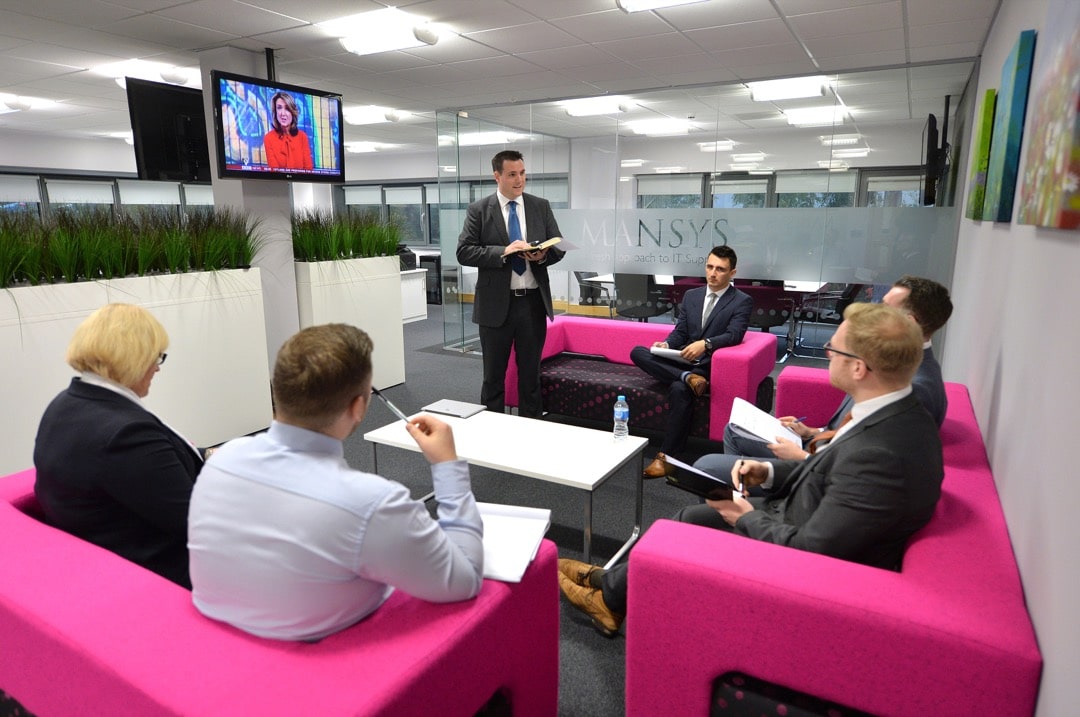 Why Choose Mansys for your SharePoint York?
We care about you and your business and go the extra mile to make sure we understand your business processes and then work with you to support your goals.
Because we work regularly with businesses in Manchester, we understand what your business needs from us, as an IT provider. We'll be there when you need us—every time. Companies in Manchester need and expect:
A modern IT support company that provides proactive services, rather than reactive

An IT support they can count on as a partner that provides them with the best IT solutions customised for their specific business issues

A solutions-driven company that can ensure adapting to new technology is accomplished smoothly
As a modern IT support company, we deal with the latest technology on a regular basis. We have the knowledge and experience needed to provide the IT solutions you need. We're also dedicated to solid business values, so you can count on us to:
Avoid the use of technical jargon or language that is in any way confusing

Avoid passing on hidden costs. All costs will be explained up front

Provide excellent customer service

Work proactively to identify issues before they become a major problem

Work with you to find a tailored solution for your IT issues
We take a proactive approach to IT management services, and by providing your business with best-practice advice. We're here to make your business run more efficiently and smoothly.
Mansys isn't here just to fix our clients' computers. We're here to manage your IT systems, so they won't hurt your company's success.